Rugosa Basenjis


History
&
Philosophy
8 years ago, when I got my first basenji, I just wanted a pet. I had been wanting a basenji for 30 years (yes, that says 30), and my life was finally to the point where I could devote the time necessary to a basenji puppy. A year later, we added another pet. My philosophy at that time: keep my beloved pets happy, active, and healthy. I read all I could about the breed, its quirks and its health problems. I bugged their poor breeder constantly. I took them to classes just for fun. There was no way we were going to enter any agility or obedience trials, but I enjoyed working with the dogs and they enjoyed the attention.

Then we were introduced to lure coursing. What Fun! The dogs loved it, I loved it, the people were great, and we got to meet more basenji owners and breeders. More people to question, more opinions to hear.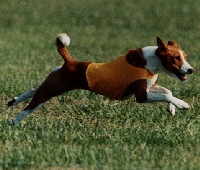 In the meantime, my daughter started showing in 4-H, then in AKC juniors, and I decided to get a pup of my own to show. The breeder of my other 2 dogs, Dr Tracy Leonard DVM, of Select Basenjis, sold me my beautiful Rosa. Rosa was a wonderful basenji bitch to learn with (I had never shown a dog in my life). Though she is not perfect, she is of high enough quality that she finished at 12 mos, with me as her handler all the way. I continued to show her, and, depending on which list you read, she was the #12 or the # 9 bitch in 1999. High enough to feel really really proud, yet low enough to keep us humble. She even received an Award of Merit at the BCOA National Specialty in 2001!!!
99% of the credit must go to her breeder, most of the time I just held the leash and went along for the ride. We met so many wonderfully kind and helpful people along the way. I'm so fortunate this is the breed I chose to show, never did I feel unwelcome at ring side.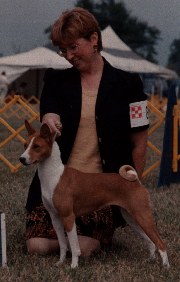 I remember having a conversation with someone well known and respected in the breed. Our talk turned to breeding, and I said I was not sure I wanted to go that route. She told me that if the people who really care about the breed, and have good dogs, don't breed, then the basenji breed as a whole will be saturated with the mediocre. Quite a mouthful, but oh so true.

So I started (and am still on) a quest to learn all I could about this breed. With Dr. Tracy as my mentor, in 2001 I bred my first litter. With her guidance, a stud was chosen for my dear Rosa, and she blessed us with 6 beautiful babies. I tried to produce puppies who had a good chance at a long healthy life, temperaments that would make them welcome additions to the families waiting for them, and one or two that could be competitive in the show ring and on the coursing field.
What did I learn from that litter? It is a lot easier to buy a great show basenji than it is to breed one !!!!!
But, I got 6 of the sweetest little babies I've ever seen. They were CALM!!!!!!!!
I truly expected, when I went in the dog room to feed 6 little 8 week old puppies in the morning, they would be screaming and jumping and acting crazy, wanting their breakfast NOW!!!! Nope, 6 little babies, sitting quietly all in a row, quietly asking, "May we have our breakfast now, please?"
Of that litter, two are being shown, both with points (one just needs her majors). No Best in Show winners, but certainly the two being shown received good points from both parents, showing me it was a good match. They are also proving to be awesome coursers. The others are in wonderful homes, living as beloved members of their families.
After that, I did some more research on the breed, studied pedigrees, and continued reading about health and genetics. I met a breeder in San Francisco, Parry Tallmadge, and welcomed him as a co-breeder of Rugosa Basenjis. We planned a litter for 2002 and concentrated on health and temperament, but again I hoped for a couple of puppies that could be shown and coursed. We kept a couple of puppies that are showing a lot of promise in the ring (one is pointed, one placed in the Bred By Sweeps class at the national) and are showing great enthusiasm for chasing plastic bunnies. I am extremely pleased with the temperaments as well, most we did not keep went to families with small children and all are very happy.
Between the two of us, Parry and I have only a few years of breeding experience, and sometimes it may seem to be a case of the 'blind leading the blind,' but we have the same goals with each litter planned:
to produce puppies that can live long, happy, healthy lives, have temperaments that allow them to be wonderful members of their families, and to try to produce basenjis that conform as closely as possible to the Basenji Standard.
We want to produce basenjis that win in the show ring, as well as on the coursing field, but can also snuggle with the family on the sofa when the day is over. And we would love to breed basenjis that live to be 17. Maybe someday we'll be able to change our motto to: Rugosa Basenjis, in the ring, on the field, and in the home, for a very long time!

So I guess my philosophy is to produce basenjis with the best temperaments, health and conformation possible, while always preserving the natural characteristics and instincts of the breed. Boy, what a task, I am so grateful to the friends I have made in the fancy, they are a wealth of information, and so willing to answer my never ending questions.
Part of my philosophy must also include helping the breed as a whole.
I have found the best way I can do this is with education:
I am a volunteer for Basenji Rescue and Transport (BRAT), helping by screening applicants.
Every year, about February, I place an ad in our local newspaper, to offset the area's Backyard Breeder's ad. It is an ad offering information only. The number of calls, and the amount of info I am able to share, hopefully will result in fewer basenjis ending up in rescue.
I truly enjoy welcoming people to my home to meet my dogs. It is often the first time they have met a basenji in person, and by the time they leave, I think they have a pretty good idea of what is involved in being owned by one. I have an 8 page basenji information packet that I send to anyone who requests it (Or click the link to see the online version). I truly believe that many of the basenjis in rescue would not be in that situation if their owners had been better educated about the breed in the beginning.
Wouldn't it be wonderful if all basenjis went to their 'forever' homes at the very start?
[ Back to Rugosa Basenjis Home Page ]

We'd love to have you visit our other sites:
* Basenji Puppy Playtime

(The web's first basenji dance page
with all original graphics!)
* Basenji Art by Monica
(features greeting and note cards,
and original watercolors, all by
Monica)
* Basenji & Egyptian Graphics
(Free graphics featuring my favorite breed
and their country of origin)

* Canine Web Graphics
(Includes dog show ribbons & awards,
as well as breed specific graphics)


n